This is our dedicated page for all updates and information regarding the 2020 COVID-19 Pandemic.  Please continue to check back to this page for timely updates and information. 
COVID 19 Relief Fund
Catholic Charities Palm Beach COVID 19 Pandemic Fund
Catholic Charities has been a leader in disaster relief and recovery and will respond to the needs of our community during and after the current Coronavirus Pandemic.  Catholic Charities will provide assistance to those impacted economically by COVID19 who reside within the five counties of Palm Beach, Martin, St. Lucie, Okeechobee, and Indian River.  Your donation will aid in these efforts and will help those who are negatively impacted by this pandemic.  Thank you for helping in the relief efforts!
As part of the Coronavirus Aid, Relief, and Economic Security (CARES) Act: A charitable deduction of up to $300 is allowed for taxpayers who do not itemize their deductions. The adjusted gross income (AGI) limitation is waived for cash contributions made in 2020. Donor advised funds and private non-operating foundations are excluded.
Catholic Charities Food Distributions
Throughout the COVID-19 pandemic, Catholic Charities employees from our administration and 11 programs/ministries have participated in the distribution of food, clothing and other necessities to clients and the public.  These donations are possible thanks to collaborations with Catholic Charities USA, The Palm Beach County Food Bank and from donations made through this website.  On behalf of our employees and clients, thank you for making this possible.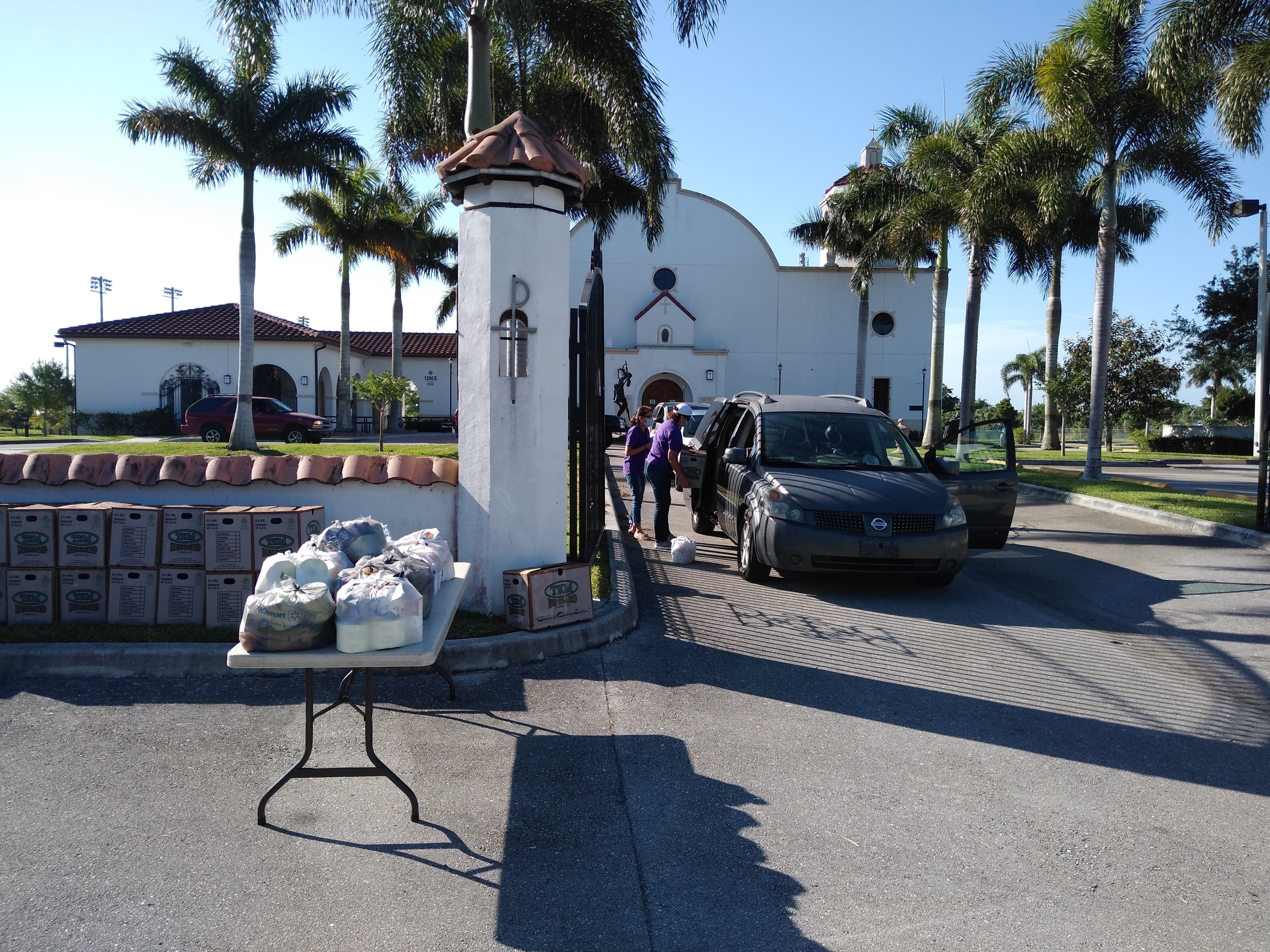 Catholic Charities Operations Status
 At this time, Catholic Charities programs and ministries are seeing clients by appointment only. The safety and well-being of our employees, volunteers, clients and visitors is a main priority. All staff, clients, visitors, and volunteers must wear masks when onsite and get their temperature taken on arrival. If you need to speak to or meet with one of our staff members, please call or email them directly. Click here to be directed to our directory.  
At Catholic Charities, we are deeply concerned about the well-being of those who are being affected by the pandemic, as well as our clients, volunteers and staff members. We continue to monitor the situation and make appropriate programmatic changes as necessary (please see programmatic updates below).
Catholic Charities Hunger, Homeless and Outreach Program has funding available to assist with mortgage/rent/utilities for those who have experienced an interruption or loss of income due to COVID-19.  Please call 561-345-2007 to speak with an Outreach Specialist today.  
Catholic Charities Counseling Program encourages anyone experiencing stress, anxiety, and fear due to the COVID-19 pandemic to call the toll free hotline number at 1-844-848-6777. In addition, the program is offering video sessions in lieu of face-to-face meetings with highly trained therapists. Fees may apply to follow up video sessions (not the initial call), depending on the income-based sliding fee scale.  Staff and counselors are bilingual - Spanish/English.
Catholic Charities COVID 19 Response
The coronavirus (COVID-19) pandemic is causing big concern worldwide, in our local community, and to Catholic Charities employees and Stakeholders.  Besides the health risks and disruption of everyday life stemming from this situation, the economy is slowing down, people's ability to work is diminished, and elderly populations fear for their increased risks. Under these dire circumstances, some of Catholic Charities services will be needed by the vulnerable populations now more than before this situation developed.   
In continuing our operations to provide essential services, consideration has to be given to recommended protocols or guidance regarding prevention of the spread of this infectious decease issued by the federal and local governments. After considering such information and  guidance protocols issued by the Diocese of Palm Beach last Friday, March 13,  I issued today directives to all our Catholic Charities employees and volunteers, including infection control protocols,  that will allow us to continue providing essential services, with certain limitations, to the most vulnerable populations as long as it is feasible and practical to do so.  
The safety and well-being of our employees, volunteers, clients and visitors is a main priority. As we monitor this global pandemic and its effects in our local area with the government's guidance, we will continue to address issues related to coronavirus that can affect our operations and the well-being of our employees, clients, volunteers and other stakeholders. You can access additional information and updates on our Facebook page @CatholicCharitiesPalmBeach and the Florida Department of Health www.floridahealth.gov.  
As always, we count on your continued support and collaboration to the extent possible. At this time of uncertainty, we should all join in praying for those affected by this pandemic and ask our Lord in his mercy for wisdom and guidance to continue our mission of sharing his love with others as much as possible under these unusual circumstances.    
Francisco "Frankie" Chevere, CEO-Executive Director