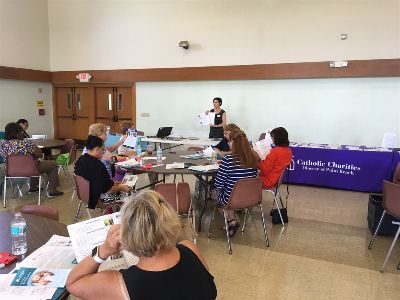 (Palm Beach Gardens, FL) July 7, 2017 – Catholic Charities Interfaith Health & Wellness ministry held the first diocesan wide "Comfort for Caregivers" mini-conference in collaboration with St. Lucie Catholic Church on June 23, 2017.   Reverend Curt Kreml, OFM, Parochial Vicar opened with prayer and gave many helpful suggestions to caregivers.  Rev. Kreml advised caregivers to call the parish office and request that the Pastoral team visit with the Sacrament of the sick which also provides "comfort for the caregiver" and not wait until final rites.  Rev. Kreml mentioned St. John is the patron Saint of caregivers and reflected on the prayer:
"Beloved St. John, from the cross Jesus entrusted to you the care of His Blessed Mother.
Help me and all those taking care of a loved one who is sick, elderly, disabled or frail.
Pray for us, that as we go about our many caregiving duties, we may never lose sight of that truth which Christ revealed to His disciples: "Whatever you did for one of these, you did for Me." Amen."
Liz Shapiro, a volunteer with Catholic Charities who holds a Master's degree in Nutrition, then spoke about self-care for caregivers and Dr. Fatouhi's "6 Steps to keep your Brain Young"; including selecting a variety of colorful, high nutrient foods each day, reading the food labels to reduce fats and sugars, exercise, and maintaining a positive, affirming outlook.
Alzheimer's Community Care presented "A New Look at Behaviors Associated with Neurocognitive disorders."  Karen Gilbert, VP Education, noted that dementia is not a diagnosis and could be caused by treatable conditions including: urinary tract infection, dehydration, vitamin b12 deficiency, side effects of medications, depression, untreated pneumonia, or underactive thyroid.  Ms. Gilbert stated the importance of going to your doctor and being tested for these conditions.  If there is no improvement after treatment, seek a referral to a neurologist.  Ms. Gilbert then shared the following information about available community resources:
St. Mary's Medical Center Memory disorder center in West Palm Beach offers free memory screenings and resources. 
Alzheimer's Community Care has several Adult day care locations and a 24-hour nurse helpline. 
The annual Alzheimer's Educational conference will be held May 17-18, 2018 at PGA National Resort.
 Free locator bracelets connected to Florida's Silver Alert are available, as well.
Information on the Carmelite Sisters Catholic nursing home, assisted living, and rehabilitation services in West Palm Beach, along with their Avila Institute on Aging website www.avilainstitute.org/webinars.htm with free webinars on the "Spirituality of Aging" and "Forgiveness: Essential to the Healing Process" was shared.
Two Registered Nurses, Wendy Harper and Joanne Hendee, with the Parish Nurse ministries at St. Helen Catholic Church in Vero Beach and St. Bernadette Church in Pt. St. Lucie, taught an sample excerpt from the "Powerful Tools for Caregivers" course.   This 6-week workshop, through the Area Agency on Aging, helps caregivers with self-care, managing emotions, reducing stress, and communicating effectively.
Respite Services Coming to Caregivers in St. Lucie County: Beginning in Fall 2017, Catholic Charities will offer a new service to Caregivers of the sick, elderly and homebound in St. Lucie County. The Respite Care program provides short-term or temporary care of a few hours a week.  The new program is funded through a two year grant awarded to Catholic Charities by Allegany Franciscan Ministries.  For more information on this new program, please contact Catholic Charities'' Associate Director, Rob Siedlecki, at 561-360-3321. 
If you are interested in holding a caregiver workshop in your Parish or interested in Parish Nursing, please contact Catholic Charities at 561-345-2000 ext. 256.
****
About Catholic Charities
Catholic Charities of the Diocese of Palm Beach provides 12 social services and ministries throughout 8 locations in the Diocese of Palm Beach. Established in 1984, Catholic Charities responds to the needs of the poor and most vulnerable by providing quality programs that serve children, families, and homeless. Catholic Charities of the five-county Diocese of Palm Beach respects life in all of its stages. In living our faith, we create hope for people in need, without regard to religion. Through our programs and ministries, we empower individuals, deliver social services and collaborate with others in building just and compassionate communities. Visit www.catholiccharitiesdpb.org
About the Diocese of Palm Beach
The Catholic Diocese of Palm Beach encompasses the five counties of Palm Beach, Martin, St. Lucie, Indian River and Okeechobee. Comprised of 280,000 Catholics in 53 parishes and missions, the Diocese also serves the faithful community through its schools. Visit www.diocesepb.org