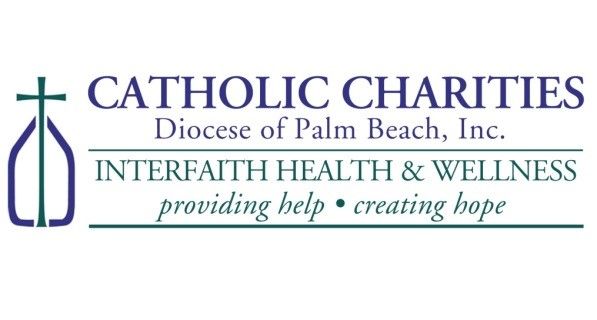 CATHOLIC CHARITIES INTERFAITH HEALTH & WELLNESS
PRESENTS ANNUAL AWARDS
March 4, 2019 -- Interfaith Health & Wellness, of Catholic Charities of the Diocese of Palm Beach A non-profit organization in Palm Beach will be among those honored at a luncheon presented by Interfaith Health & Wellness, a program of Catholic Charities of the Diocese of Palm Beach.
Stanton Collemer, CEO of Cancer Alliance of Help & Hope, will be given the Pope Francis Leadership Award for helping more than 200 patients a year, providing financial assistance to people undergoing cancer therapy who fall behind on daily living expenses, increasing the level of assistance per patient, and increasing the number of patients assisted.  Collemer has had a significant impact on providing needed services and programs to care for those in need in the community.
Sr. Mary Murphy and Sr. Betty Frascino, OSF, will receive the Mother Teresa Award for more than 45 years of service.  The Allegany Franciscan Ministry sisters whose religious order started St. Mary's Medical Center, serve as chaplains at St. Mary's hospital, counseling thousands of patients and patients' families undergoing procedures or facing end of life issues and bring immeasurable hope and comfort.
Eleanore Lindelof will be given the Faith Community Nurse of the Year Award and Lucy Appleby a Refuah scholarship to attend the Foundations of Faith Community Nursing course. Both are registered nurses.  Lindelof serves the community surrounding Sacred Heart Catholic Church in Lake Worth.
Award winners were chosen for their humanitarianism and lifelong dedication and service.  Patrick McNamara, CEO, of Palm Health Foundation will be the keynote speaker.  Chairwomen are Mary Ierardi of the St. Edward Catholic Church Women's Guild and Guia Brown-Rossow, Financial Advisor with Raymond James.
The noon lunch and silent auction on April 4, 2019 at the National Croquet Center are open to the public. RSVP to Interfaith Health & Wellness, Catholic Charities, 100 W. 20th St., Riviera Beach, FL 33404.  Tickets are $125.  Call 345-2006, for more info.
Proceeds from the event provides Faith Community Nursing outreach in the community, life-saving interventions, free health assessments, screenings, health education, and advocacy for the homeless, families in transition, the uninsured, and elderly.   Catholic Charities Wellness nurses collaborate with many local agencies including Adopt-A-Family Services, Area Agency on Aging, and the Visiting Nurses Association to provide services to those in need.
***
About Catholic Charities of the Diocese of Palm Beach - Catholic Charities of the Diocese of Palm Beach provides 15 programs and ministries throughout the Diocese of Palm Beach. Established in 1984, Catholic Charities responds to the needs of the poor and most vulnerable by providing quality programs that serve children, families, individuals, and the homeless. Catholic Charities respects life in all of its stages. In living our faith, Catholic Charities helps and creates hope for people in need, regardless of religion, by delivering social services, collaborating with others in building just and compassionate communities, and empowering individuals through education. 
About the Interfaith Health and Wellness - Interfaith Health & Wellness of Catholic Charities of the Diocese of Palm Beach provides education and support for registered nurses to serve our community through their affiliation with churches, temples, and other faith-based initiatives and connects individuals and families to care and basic support services with the outcome of physical, mental and spiritual health that ultimately embraces individual and community wellness.