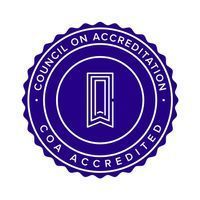 Palm Beach Gardens, July 29, 2021  
Palm Beach Gardens, Florida Catholic Charities has achieved national accreditation through the Council on Accreditation (COA). The accreditation was expedited due to not receiving any out of compliance ratings. Jody Levinson-Johnson, President and CEO of COA states, "this is an amazing achievement."  
The COA accreditation process involves a detailed review and analysis of administration, management, and service delivery functions against standards of best practice. The standards driving accreditation ensure that services are well-coordinated, culturally competent, outcomes-oriented, and provided by skilled and supported employees and volunteers. COA accreditation demonstrates accountability in the management of resources, sets standardized best practice thresholds for service and administration, and increases organizational capacity and accountability by creating a framework for ongoing quality improvement.  To achieve COA accreditation, Catholic Charities provided written evidence of compliance with 118 standards.  Thereafter, a group of three specially trained volunteer peer reviewers confirmed adherence to these standards during a week-long series of file reviews and interviews with board members, leadership, staff and clients.   
Catholic Charities Board President, Marietta Muiña McNulty says, "the expedited COA accreditation is the direct result of the tireless dedication and compassion of all the employees and volunteers of Catholic Charities of the Diocese of Palm Beach.  They have done an outstanding job with the support and guidance of Bishop Barbarito and our Board.  God bless them all!" The CEO/Executive Director, Frankie Chévere, agrees with her sentiments in crediting staff and volunteers, "COA's President described the accomplishment of Catholic Charities receiving an expedited accreditation as amazing, which underscores the outstanding team effort of our employees and volunteers to make Catholic Charities a stellar organization in the service of charity." 
Catholic Charities is a comprehensive nonprofit organization serving the 5 counties of Palm Beach, Martin, St. Lucie, Okeechobee, and Indian River.  Established in 1984, Catholic Charities serves the most vulnerable, people in need through all stages of life through their 11 programs and ministries.  Vulnerable populations served include people that are hungry, facing financial crisis, at-risk pregnant women/families, immigrants/refugees, survivors of human trafficking, caregivers, incapacitated elderly, and those facing mental health issues.  To learn more about Catholic Charities, visit www.ccdpb.org. 
Founded in 1977, COA is an independent, not-for-profit accreditor of community-based behavioral health care and social service organizations in the United States and Canada. Over 2,000 organizations — voluntary, public, and proprietary; local and statewide; large and small — have either successfully achieved COA accreditation or are currently engaged in the process. learn more about COA, please visit www.coanet.org.