Transitional Housing Services
The Samaritan Center provides transitional housing and guidance to homeless families in Indian River County and prepares them to live independently. The average length of stay is 6-9 months. During their stay, the Samaritan Center partners with resident families to provide a nurturing environment, safe housing, case management, support/educational services, and connection to community resources.  
Our resident clients are responsible to do the work leading to independence and self-sufficiency. Families must obtain employment and open a bank account and save 75% of their earnings per the financial stability contract. Required educational opportunities are offered to help residents gain independent living skills.  Topics include positive parenting techniques, financial management/ budgeting, health and safety, conflict resolution, and household management. Our Four-Tiered Level Program assists clients in progressively moving forward in their independent living skills development.
The Samaritan Center is guided by a service philosophy that values client choice and promotes resident's integration into the community, as evidenced by our success rate of 75% clients living independent 6 months after exiting the program at Level III or higher.
Admissions
Samaritan Center serves "homeless" families (adults and children who meet the following eligibility and suitability criteria): 
Homeless  
Resident of Indian River County 
Families may be intact (2 parents with children) or single parent families, or a pregnant female. 
Parents must have legal custody or be in a reunification process with the child/children  
At least one, preferably both, parent(s) must be willing and physically able to work. 
High School Diploma or GED or is required to enroll in IRSC Adult Education 
To apply for admissions, potential resident(s) must call Samaritan Center for a telephone interview. The Operations Manager will contact them to discuss the program and take information to determine the basic eligibility. If deemed eligible for assistance, the potential resident(s) will be placed on a waiting list until housing becomes available. Admission is granted on a first-come, first-served basis and is open to families of all faiths. Please view our Client Services web page by clicking on the program's name on the left of this page.
Contact Samaritan Center 
View our program brochure
View our Amazon Smile Wishlist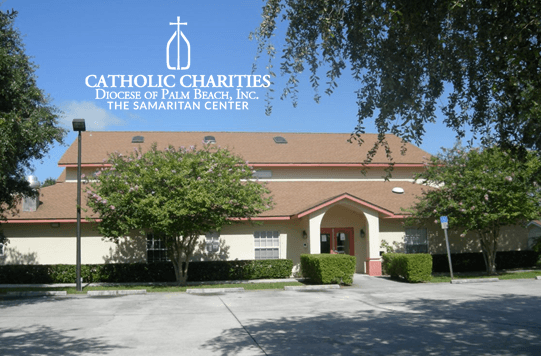 A transitional residential facility for homeless families in Indian River County
The Samaritan Center is proud to be supported by the following partners