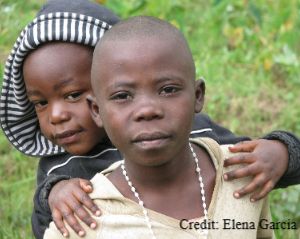 The Catholic Charities Catholic Relief Services' (CRS) carries out the commitment of the United States Conference of Catholic Bishops (USCCB) to assist the poor and vulnerable people overseas and to promote the sacredness of human life and the dignity of the human person.  
Motivated by the Gospel of Jesus Christ and Catholic social and moral teaching, Catholic Relief Services acts to:
Promote human development by responding to major emergencies, fighting disease and poverty, and nurturing peaceful and just societies: and,
Serve Catholics in the United States to live their faith in solidarity with their brothers and sisters around the world.
As part of the universal mission of the Catholic Church, Catholic Relief Services works with local, national and international Catholic institutions and structures, as well as other organizations, to assist people on the basis of need, not creed, race or nationality. 
Although this mission is rooted in the Catholic faith, its operations serve people based solely on need, regardless of their race, religion, or ethnicity. Within the United States, CRS engages Catholics to live their faith in solidarity with the poor and suffering of the world and in uprooting the unjust structures that perpetuate poverty, conflict and inequality.
Local CRS Rice Bowl Grant Opportunities
A portion of the funds collected through Operation Rice Bowl remain within the diocese and are given out through grants to local outreach programs at diocesan parishes. Each year 25% of the funds collected within the Diocese of Palm Beach through Operation Rice Bowl are used for local outreach. 
The application-period for CRS grants occurs in the early fall. Please click the below links for grant guidelines and current application. 
2019 CRS Rice Bowl Grant Criteria and Guidelines
2019 CRS Rice Bowl Grant Applications
2018 CRS Grant Recipients:
St. Vincent Ferrer Catholic School: 
St. John Fisher Catholic Church: 
Ethical Trade
The CRS Ethical Trade Program creates opportunities to bring the values of our faith to bear in the marketplace, and to make consumer choices that help lift our brothers and sisters around the world out of poverty. CRS works with partners to bring fair trade handcrafts, coffee and chocolate to thousands of communities across the United States. By purchasing ethical trade products, you help to alleviate poverty and promote the common good. Ethical Trade respects human dignity, promotes the common good, advances economic justice, empowers disadvantaged people and cultivates global solidarity.
For more information visit CRS Ethical Trade website or contact this ministry.