Foundations of Faith Community Nursing Course
Annually, the Interfaith Health and Wellness Program offers a Faith Community Nurse Basic Preparation Course which provides Registered Nurses education and support to create health ministry programs in their respective congregations. It is a comprehensive week-long course of study approved for 36 CEUs and recognized by the International Parish Nurse Resource Center.
Learn more about this course – view the course description and Basic Preparation Course brochure. 
View/print the course registration form.
If you are a nurse looking for a class internationally, you may find class locations here at the Westberg Institute for Faith Community Nursing.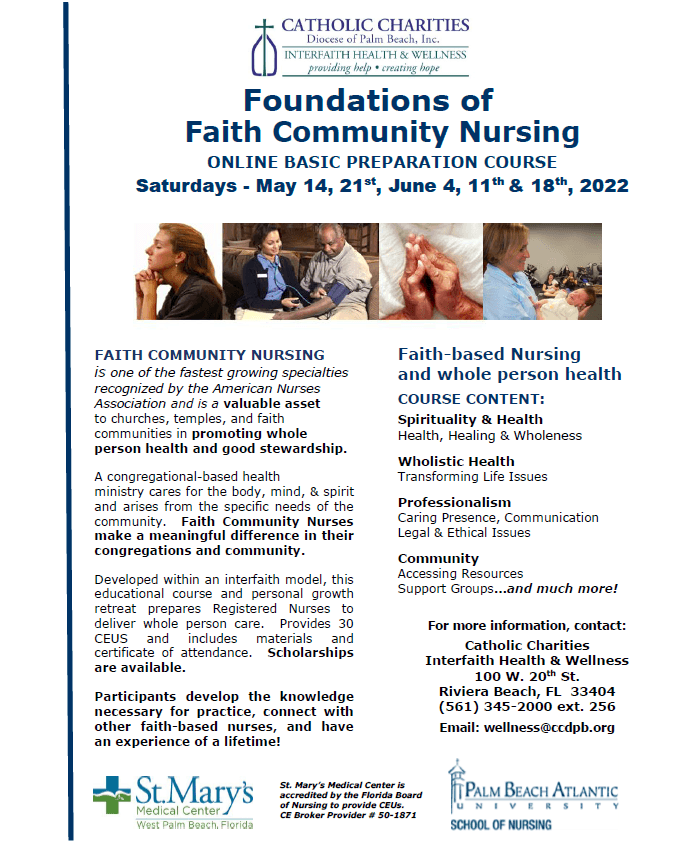 Networking Meetings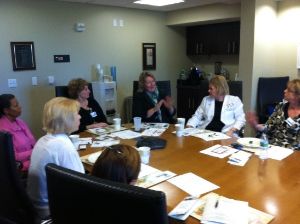 The Faith Community Nursing program brings together Registered Nurses in the community at Networking Meetings which are held every other month. To find a meeting, please view our Events Calendar 
LEADER TRAINING EVIDENCE-BASED WORKSHOPS
Living Healthy, Powerful Tools for Caregivers, and Chronic Disease Self-Management workshops for people with on-going health conditions provides self-management tools to improve their health.  Leader classes are offered to Faith Community Nurses who wish to team up with a member of their congregation to lead the 6-week workshops.  For more information, call (561) 345-2006. 
An Annual Spring Luncheon and Awards presentation is held each April to recognize the dedication of the nurses and volunteers in our community who inspire hope and transform lives.  All proceeds benefit the work of the nurses in their outreach to the less fortunate including collaboration with a mobile medical unit, health education with disease prevention, advocacy, referrals to care, basic supplies for the underserved, homeless, elderly and homebound, bus passes and emergency assistance, and scholarships to attend the basic preparation course. 
To nominate someone in your community for the Faith Community Nurse of the Year, Mother Teresa Humanitarian Award, or Pope Francis Leadership Award, click here for Nomination forms.