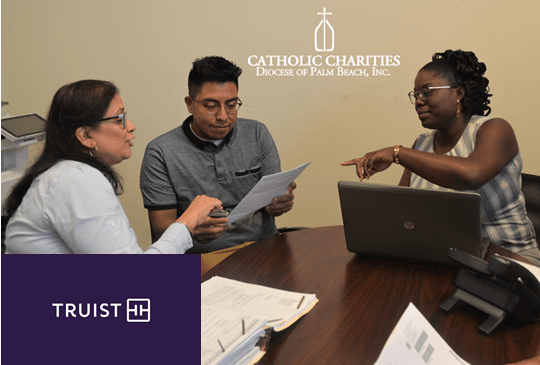 Catholic Charities of the Diocese of Palm Beach is grateful to Truist Foundation for their $23,000 grant investment in our most valuable resource, management and staff. This investment will fund high-quality professional development and training to build staff capacity and skills so we can deliver excellence to those most in need. In addition, this training will help our team advance in their positions as leaders, supervisors, and program managers so they can demonstrate best practices, resolve conflicts, solve problems, and execute programs with quality and excellence. Course topics will include understanding and developing cultural diversity, including management and leadership.
Great leaders can transform our community. That's why Truist Foundation is focused on empowering nonprofits and community-based leaders to create positive change.
"When we invest in organizations that serve Palm Beach and the surrounding area, we help strengthen the region and fulfill Truist's purpose to inspire and build better lives and communities," said Tony Coley, south Florida regional president for Truist, speaking on behalf of the Truist Foundation. "Providing development opportunities to the management and staff of Catholic Charities will enhance their capabilities and benefit the many Floridians who rely on their continued support."
The Truist Foundation is committed to Truist Financial Corporation's (NYSE: TFC) purpose to inspire and build better lives and communities. Established in 2020, the foundation makes strategic investments in nonprofit organizations to help ensure the communities it serves have more opportunities for a better quality of life. The Truist Foundation's grants and activities focus on building career pathways to economic mobility and strengthening small businesses. Learn more at Truist.com/Foundation.