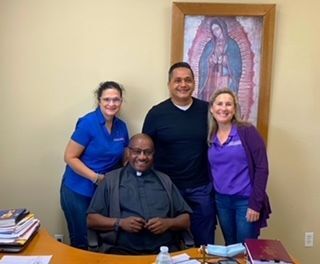 April 2023 - Fellsmere, Florida. Catholic Charities of the Diocese of Palm Beach coordinated the 18th annual Long Sleeve Shirt Drive that aids farmworkers in the state. The Lenten drive aims to collect clean used or new, cotton, long-sleeve shirts that can be worn in agricultural fields and will protect workers from the sun and pesticides. The effort also raises awareness about the conditions that farmworkers face and the vital role they play in the nation's economy.
From Ash Wednesday to Holy Thursday (April 6 this year), Catholics were urged to participate in the Long Sleeve Relief Drive by praying for its success and donating light-colored long-sleeve shirts (men and women, all sizes). Catholic Charities had two drop-off locations, and delivered donated shirts as well as diapers and baby items to Our Lady of Guadalupe Mission (with many farmworker parishioners) and the Farmworkers Association located a mile from the Church.
Pictured here is Father Sabas Mallya from Our Lady of Guadalupe with staff from Catholic Charities of the Diocese of Palm Beach.