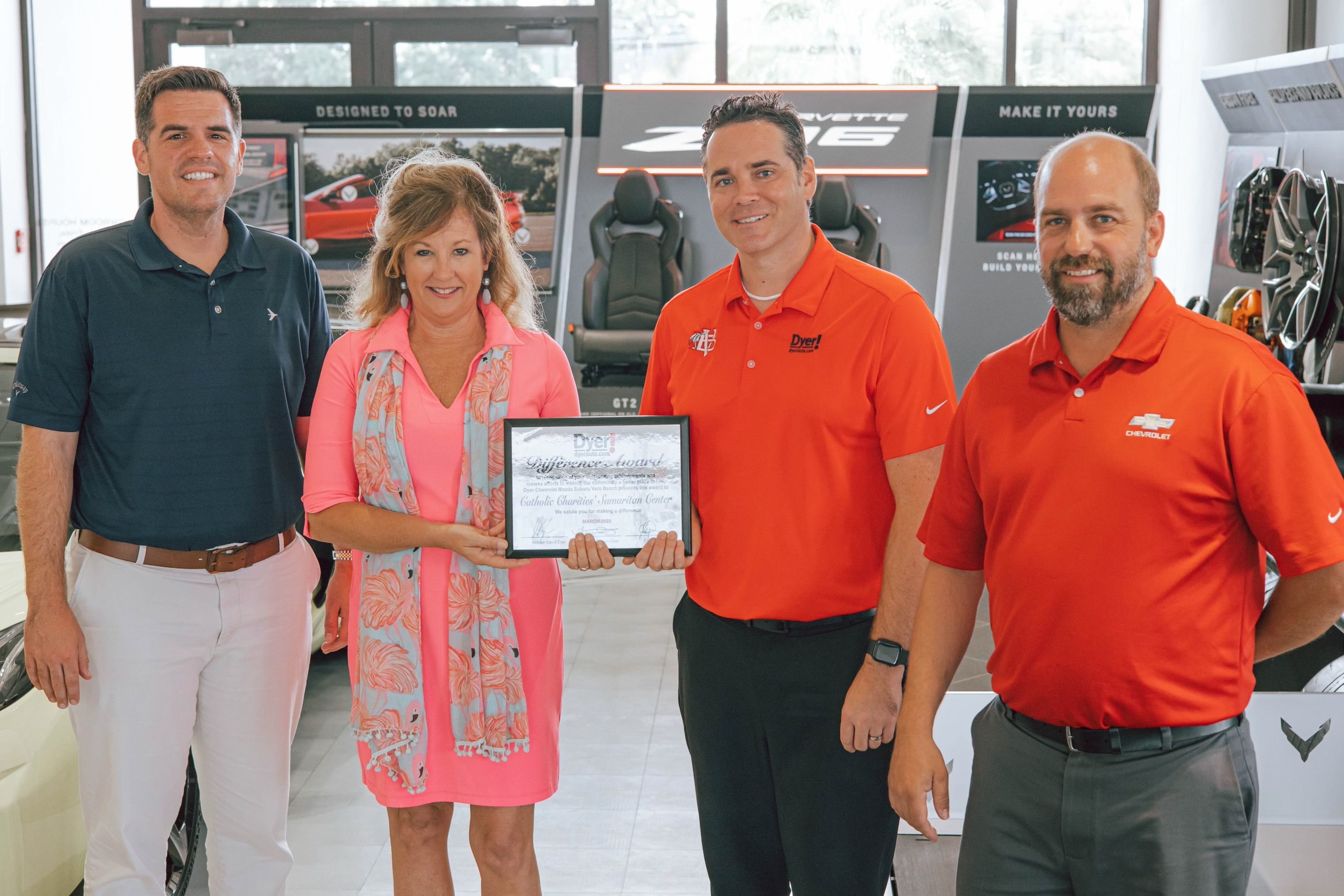 FOR IMMEDIATE RELEASE
Date: March 18, 2022
Contact: Wendy Dwyer
Phone: 772-359-6833 Email: wld1@bellsouth.net
St. Lucie County Photos Courtesy of Ilena Luts: PAL Executive Director Jarret Romanello, Deputy Pat Sidel, Sgt Mark Colangelo, Lt. Keith Pearson, Chief Deputy Brian Hester, PAL President Lisa Johns-Grose, PAL Vice-President Paul Pearson, Deputy Brittany, Lt. Wes Harbin, and Sgt, Matt Woods.
Indian River County Photos Courtesy of Ilena Luts: John Dyer, Renee Bireley, Jonathan Hardie, Ben Williams
Samaritan Center and PAL Recognized with Dyer Difference Award
There is little that is more difficult for a family than the struggle with homelessness. Unfortunately, this struggle is one faced by many in our midst, and unaddressed, its negative impacts can reverberate through generations. Samaritan Center in Indian River County is designed to offer transitional housing for families struggling with homelessness, but they offer a great deal more to the families in their care. Since its inception, Samaritan Center in Indian River County has provided shelter and hope to over 1,950 residents, including 1,075 children. In addition to shelter, Samaritan Center also offers budget and parenting classes for adults, along with job and life-skill training, and mental health counseling for individuals and families. Children receive academic assistance and encouragement and support sessions in strengthening positive behavior, self-esteem, character values, drug and alcohol prevention, divorce, and even health and hygiene. The result is a stronger, more independent family unit. To help fund the program, every June Samaritan Center hosts an annual golf tournament in honor of two of its founding members, and the March Dyer Difference Award will recognize Samaritan Center and help support the 16th Annual Bernard and Betty Egan Memorial Golf Tournament.
For more than a quarter of a century, the St. Lucie Sheriff's Police Athletic League has served the children of the community with healthy and safe alternatives to the many illegal and unsafe options at their disposal including drugs, crime, and even human trafficking via the internet. Soon, with support from the community and the City of Fort Pierce, the organization will have its own permanent home in the community closer to the youth it serves and perfect for helping to keep kids off the streets and in the gym. The March Dyer Difference Award recognizes the hard work of the St. Lucie Sheriff's Police Athletic League since 1994 and helps provide assistance with necessary renovations on the new PAL Community Center,
The Dyer Difference Award is all about celebrating the beauty and kindness in our midst. For the Dyer family and the members of the Dyer staff, the award and the $6,000 in donations made monthly between the St. Lucie and Indian River Counties are all about helping to make a positive difference in the community. For the recipients, it's an acknowledgement of their tireless efforts to do the same and a much-needed financial boost to help further their missions. If you'd like to nominate a non-profit organization for the Dyer Difference Award, please visit www.dyerdifference.org or find Dyer Difference on Facebook.