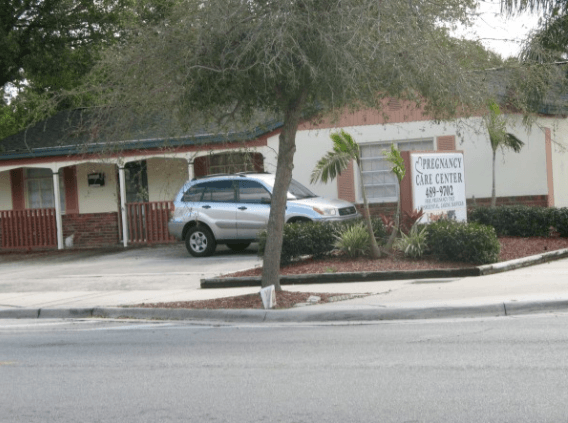 PRESS RELEASE
---
Fort Pierce Pregnancy Care Center donates building to Catholic Charities to continue pro-life services
Ft. Pierce, FL 
The Fort Pierce Pregnancy Care Center donated their building and all of its contents to the Diocese of Palm Beach for use by Catholic Charities on June 13, 2022.  The building, located at 1119 Delaware Avenue in Fort Pierce, comes with ultrasound machines and donated baby items needed by pregnant mother's. Lorie Shekailo, President of the Fort Pierce Pregnancy Care Center explains why Catholic Charities was selected for the donation.  
"The Pregnancy Care Center was delighted to make this donation to Catholic Charities. Since its inception, Pregnancy Care Center has strived to provide comprehensive care for women and their babies from conception through birth and afterward. With the change in Florida law prohibiting abortions after 15 weeks and the recent Supreme Court decision that overturned Roe v. Wade, the Board of Directors of Pregnancy Care Center realized that our clients' needs were expanding and we began to explore ways that we could best meet those needs.  After much prayer and discernment, the Board decided donating our facility and its contents to Catholic Charities to enable them to open a Birthline/Lifeline Center in Fort Pierce in addition to providing other services was the way we could most effectively and compassionately meet the needs of women and their families facing an unplanned pregnancy. We are grateful to all our volunteers and donors that supported our mission throughout the years and ask that you continue to support pro-life services by offering your time, talent and treasure to Catholic Charities for its Birthline/Lifeline and Women's Pregnancy Solutions Programs."
Catholic Charities will utilize this building to expand the services of their Birthline Lifeline Program as well as other services.  At the Birthline Lifeline pregnancy care centers, women coping with a pregnancy can access pregnancy tests, ultrasounds, pregnancy options counseling, material assistance, and referrals for care - all free of charge.  Catholic Charities plans to open the office in August 2022 on a part-time basis as funds are raised to support the new staff positions and costs associated with maintaining the office.  In addition to the Birthline Lifeline services, they anticipate offering mental health counseling and immigration legal services in the Fort Pierce facility.  The Women's Pregnancy Solutions (mobile pregnancy units) program will be offering services in the Fort Pierce area by August.  
This addition comes at a crucial time, just when the Supreme Court decision returned abortion laws to the states.  Abortion remains legal in Florida, with a new law in  effect July 1 shortening access from 24 weeks to 15. We expect many legal battles ahead of us in Florida on the abortion issue.  Regardless of which side of the issue you support, the recent ruling has the potential to greatly impact the need for pregnancy care centers and support for women who find themselves with an unplanned pregnancy.  Catholic Charities is here to help with a  mission to serve people in need and create hope in all stages of life. "In accepting this donation, Catholic Charities of the Diocese of Palm Beach is renewing its commitment to serving women facing unplanned pregnancies and those who are struggling to meet their immediate needs while pregnant and after the birth of their child," said Ellen T. Wayne, CEO for Catholic Charities. "Additionally, this opens doors for our organization to expand our vital programs and services to individuals in the Fort Piece area."
The Florida Conference of Catholic Bishops stated, this "marks a new era for the work of the Church and all those who strive to protect children in the womb.  We remain committed to the ministries of service that accompany expectant mothers facing difficult or unintended pregnancies. We strive to continue to build a society that empowers women so that mothers are truly supported throughout pregnancy and beyond... "We wholeheartedly promote the US Conference of Catholic Bishops' initiative Walking with Moms in Need as well as the Florida Pregnancy Care Network to provide life-affirming care for women." Catholic Charities Birthline Lifeline Program and Women's Pregnancy Solutions is part of the Florida Pregnancy Care Network. To make a donation to Catholic Charities to support our pregnancy support programs, visit www.ccdpb.org/get-involved/donate.
The Catholic Charities Board of Directors is excited to have a larger presence in the Treasure Coast.  Catholic Charities is a comprehensive nonprofit organization serving the 5 counties of Palm Beach, Martin, St. Lucie, Okeechobee, and Indian River.  Established in 1984, Catholic Charities serves the most vulnerable, people in need through all stages of life through their 13 programs and ministries.  Vulnerable populations served include people that are hungry, facing financial crisis, at-risk pregnant women/families, immigrants/refugees, survivors of human trafficking, caregivers, incapacitated elderly, and those facing mental health issues.  To learn more about Catholic Charities, visit www.ccdpb.org. 
Please join us for a ribbon cutting and building blessing ceremony
Date: Friday, August 26, 2022
Time:  11:00 AM to 1:00 PM
1119 Delaware Avenue, Fort Pierce