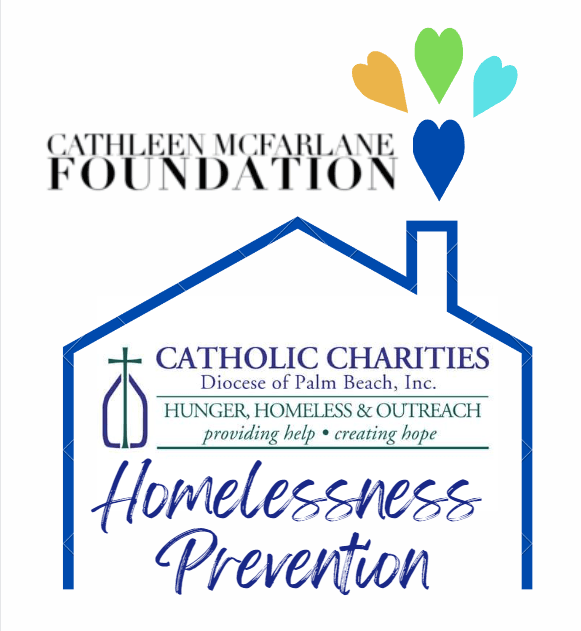 We are grateful to the Cathleen McFarlane Foundation for the support of our homeless prevention program - Hunger, Homeless, Outreach.  In September, we received a grant award of $52,000 from the foundation to provide Palm Beach County families with up to $2,000 per household in financial assistance (rent/mortgage) to prevent homelessness. 
Denis Coleman, President of the Cathleen McFarlane Foundation, said "We are grateful to be partnered with such a wonderful organization who is clearly making an incredible impact with the homeless in our area.  We are impressed with the work you are doing in our community and are excited to partner with your organization."  
Catholic Charities Hunger, Homeless & Outreach (HHO) program provides emergency services that prevent homelessness and assists individuals and families to attain economic stability and self-sufficiency through the provision of support services, training, and appropriate referrals.
The Hunger Homeless and Outreach Program serves households through Catholic Charities headquarters in Riviera Beach, and at St. Mary's center in Pahokee, Florida. Both locations are open weekdays from 8:30 am-4:30 pm. The program receives 500-1000 calls per month from people seeking assistance. 
With this grant award, households will receive navigation services leading to getting financial assistance if eligible.  The program offers the following services:
•           Household intake and assessment
•           Development and tracking of household self-sufficiency plans
•           Compassionate case management
•           Financial assistance to prevent homelessness
•           Assist to identify alternative shelter/housing when needed
•           Connection to community resources and social services
•           Assistance with transportation and nutrition
•           SNAP application assistance
•           Household advocacy; mediation assistance with a landlord, bank, or utility company
•           Financial coaching for all households receiving financial assistance, and
•           Follow-up on status of housing stability