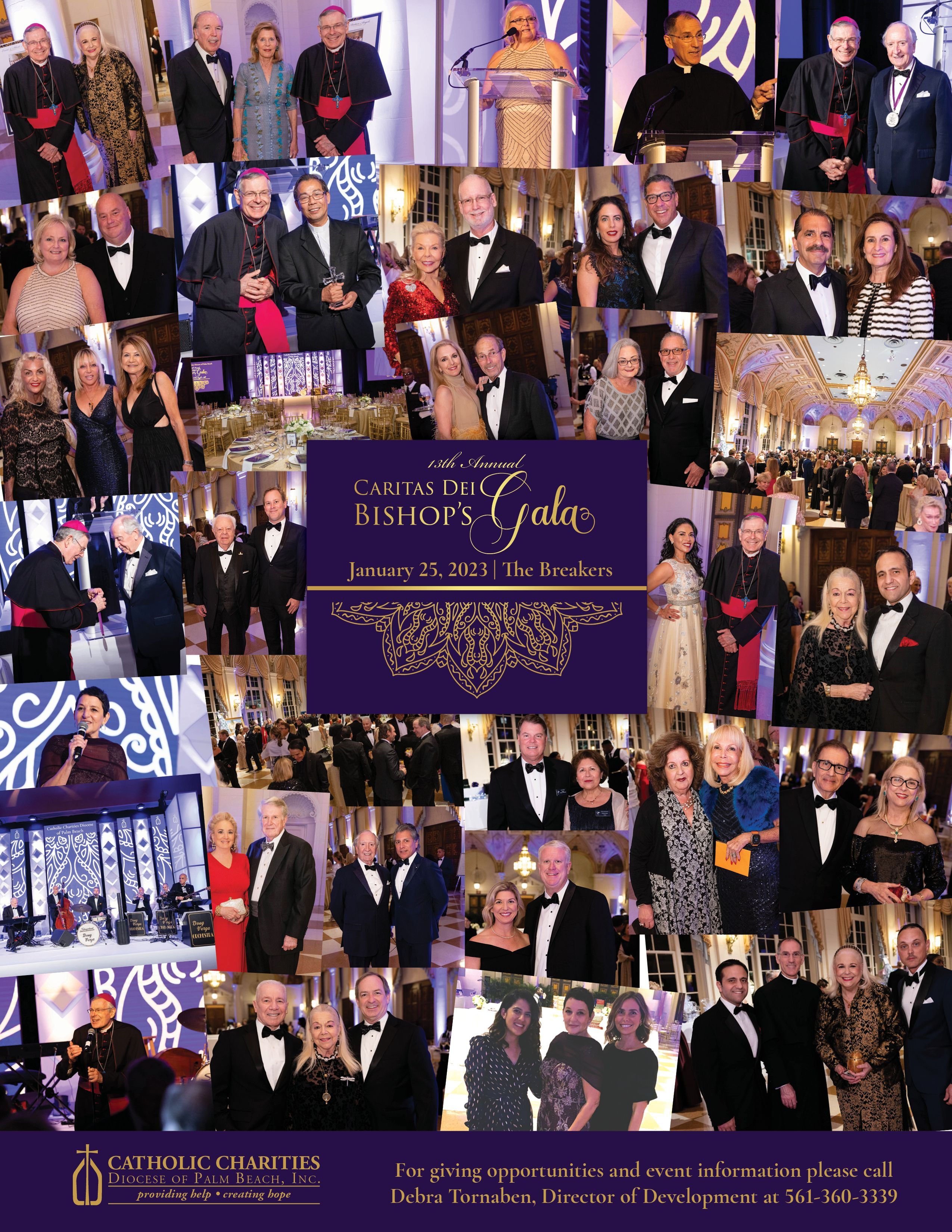 January 25, 2023 - The Breakers -Palm Beach.
After 2 years of canceled events due to covid, the Venetian Ballroom at the Breakers in a hue of regal purples and gold was filled again with women in an array of designer ball gowns and dapper gentlemen in bow ties to celebrate the 13th Annual Catholic Charities Caritas Dei Bishop's Gala.
This event is adorned not only for the silent and live auction which includes a Villa in Umbria and Jewels by Stephanie Kantis or for the glamour of the guests - but for the humbleness of Bishop Gerald Barbarito who greets each guest as if they were the most important person in the room - because to Catholic Charities they are.
Support for this event will help provide and create hope for all stages of life, especially to some of the most vulnerable members of our community. That is the true beauty of this evening's celebration and the mission of Catholic Charities Diocese of Palm Beach.
Since 1984, Catholic Charities of the Palm Beaches and Treasure Coast has been a vital community resource with programs and ministries that have helped to change the lives of local people local in need irrespective of race or religion.
Honorees presented with awards with a blessing from the bishop include:
George Kunzman, Father Peter Troung and James Broynack.
Major support from Findlay Galleries, Event Chairman Marietta McNulty, and Diamond Event Sponsors -Emilia and J. Pepe Fanjul received special recognition for their unparalleled support of the mission of Catholic Charities.
Debra Tornaben, Director of Development said "I have worked in the local community for over 30 years and each day at our headquarters in Riviera Beach we witness firsthand the overwhelming needs of the communities we serve. As we enter our 40th Anniversary season our goal is to increase awareness and support that will enable us to continue to provide outreach programs and ministries that meet the changing landscape of South Florida and the Treasure Coast".
To help Make a Difference call – 561-360-3334
Attached - The Evening photos - Capehart.