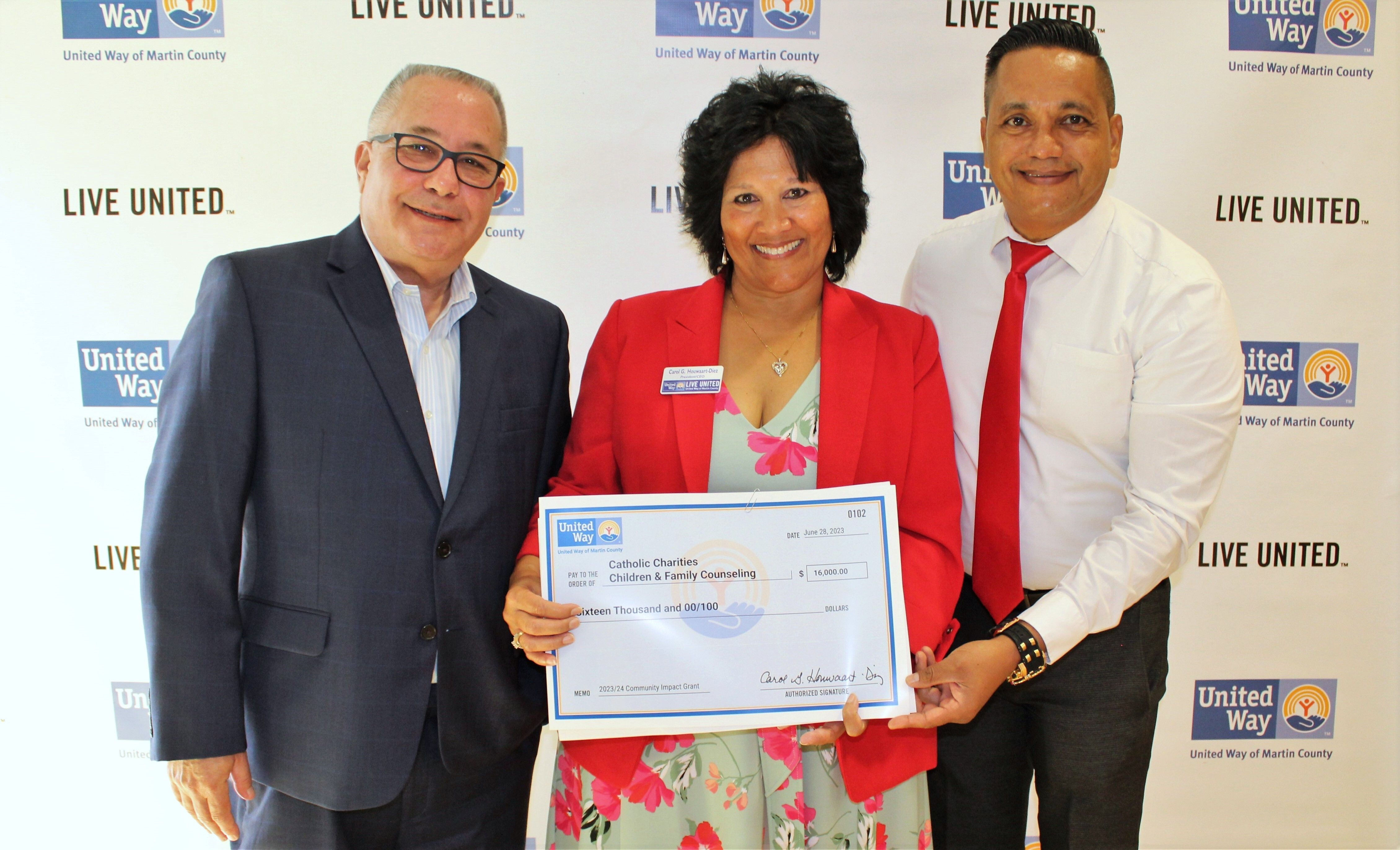 Catholic Charities is grateful to the United Way of Martin County for a $16,000 grant award to support mental health counseling services to residents of Martin County. Catholic Charities provides these services in person through their office in Stuart, Florida (3232 SE Dixie Hwy) and through telehealth, for residents with limited access to transportation. Since 1984, Catholic Charities provides emotional and behavioral counseling services using a relationship-based approach to support clients in accomplishing their goals and creating pathways to decrease stress, build upon strengths, and increase socio-emotional wellness for children and families in a culturally competent manner. Licensed, experienced clinicians provide services to individuals, couples and families who may be experiencing marital/relationship discord; destructive child/family dynamics; depression; loneliness; grief/loss; anxiety; child/adolescent behavioral issues; poverty-driven trauma and myriad stressors that can affect mental health. Clinicians meet with clients for one hour per week in a safe, supportive environment. The client and the counselor collaborate to develop a service plan and identify goals that will promote self- actualization, empower self-growth, improve relationships, and reduce emotional pain.
Counseling services are available to all Martin County residents without regard to religious affiliation, ethnic origin, immigration status, or any protected status under applicable federal, state or local law. For those with little or no resources who qualify, Catholic Charities provides services at no cost.
Recent studies indicate an increase in the percentage of adults who reported clinically relevant symptoms of anxiety and depression since the Covid-19 pandemic. The US Census Bureau Household Pulse Survey data shows this increase anxiety and depression, the use of prescription mental health medication, counseling and therapy visits among adults. We see this trend continue today. Mental Health America (MHA) reported that the frequency of mental health issues is: 21% of adults experience mental illness; 4.8% of adults report serious thoughts of suicide; 6% of youth suffer from at least one major depressive episode in the past year; 55% of adults & 60% of youth with a mental illness receive no treatment. The adult population of Martin County is 134,288 and if, as research shows, the incidence of mental health issues among adults is 21%, then there are 28,200 adults in Martin County who need treatment.
The United Way of Martin County has been a supporter of Catholic Charities Counseling services for many years. United Way of Martin County's mission is to improve lives by mobilizing the caring power of our community. Since 1972, the United Way has been working to create long-term social change and provide support to Martin County residents by investing in programs that strive to: enhance healthy living, improve education, and support financial stability. They are more than fund-raisers. They are hand-raisers. The United Way Martin County raise their hands not only to lead the fight, but to reach out to people who need help. And hope.
We ALL live better when we LIVE UNITED.